ICOEH 2019 : 4th International Conference on Occupational and Environmental Health
15-17 February 2019,
Pre-conference workshops : 15-17 January 2019 & 13-14 February 2019, New Delhi

Organized by : Association of Occupational & Environmental Health, Dept. of Community Medicine - Lady Harding Medical College &
Vardhman Mahavir Medical College, New Delhi.
INVITED SPEAKER for ICOEH 2019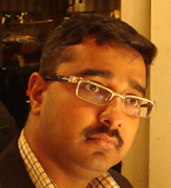 Mr. Soumya Bhattacharya is currently working as a Consultant (Programme Management) with the United nations Environment Programme (UNEP). Soumya possess over a decade long experience of working with Governments such as Ministry of Environment, Forest and Climate Change, Govt of India, Department of Environment, Govt of NCT of Delhi, under deputation from bilateral and multilateral agencies like United Nations Development Programme (UNDP) and Deutsche Gesellschaft für Internationale Zusammenarbeit (GIZ) on various of climate change and international negotiations under the United Nations Framework Convention on Climate change, low carbon sustainable development strategies, India's Nationally Determined Contributions, State Action Plans on Climate Change, matters related to Green Climate Fund, Projects for grant of Host Country Approval under Clean Development Mechanisms.
He has been a member of the High Level Inter-Ministerial Indian Delegation on climate change in over 16 UNFCCC negotiating meetings, including the Conference of the Parties, and has been instrumental in negotiating the landmark 'Paris Agreement' on Climate Change. During his assignment he has worked with high level political leaders, senior government officials and bureaucrats of various Indian Ministries, UN Special envoys and country diplomats, Civil Society Organizations and NGOs on climate change.
As a part of the UNDP Energy Environment team has been actively involved with various projects on climate change and their coordination with the various states and Union Territories of India. He has under his credit various articles and reports published by Ministry of Environment Forest and Climate change. His panel discussions on climate change and related issues are aired on the Lok Sabha Television. He is Masters of Science (Environmental Management) from New Delhi and a graduate in Zoology (Life Sciences) from University of Delhi. He holds a Diploma in Management (DIM) from Indira Gandhi National Open University (IGNOU).
Contact Us
For any information / question, kindly contact :
Dept. of Community Medicine, Lady Harding Medical College, New Delhi - 110 001, India.
+91-97188 72900, +91-93130 54881, +91-95827 92331
View previous conferences.