ICOEH 2019 : 4th International Conference on Occupational and Environmental Health
15-17 February 2019,
Pre-conference workshops : 15-17 January 2019 & 13-14 February 2019, New Delhi

Organized by : Association of Occupational & Environmental Health, Dept. of Community Medicine - Lady Harding Medical College &
Vardhman Mahavir Medical College, New Delhi.
INVITED SPEAKER for ICOEH 2019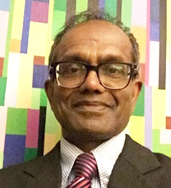 Mahinda Seneviratne
is an occupational health professional working in Australia.
He is a certified occupational hygienist with over 25 years' experience involving research, teaching, consulting, regulatory enforcement and policy development.
He has investigated & developed measures to prevent worker exposures to various hazards including silica and other respirable dust and numerous hazardous chemicals, Mahinda is currently chair of the ICOH's international scientific committee on improving occupational health among workers in small enterprises and informal sectors.
Contact Us
For any information / question, kindly contact :
Dept. of Community Medicine, Lady Harding Medical College, New Delhi - 110 001, India.
+91-97188 72900, +91-93130 54881, +91-95827 92331
View previous conferences.