ICOEH 2019 : 4th International Conference on Occupational and Environmental Health
15-17 February 2019,
Pre-conference workshops : 15-17 January 2019 & 13-14 February 2019, New Delhi

Organized by : Association of Occupational & Environmental Health, Dept. of Community Medicine - Lady Harding Medical College &
Vardhman Mahavir Medical College, New Delhi.
INVITED SPEAKER for ICOEH 2019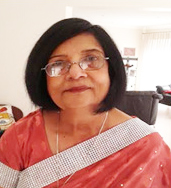 Ms. Naik worked at the National Institute for Occupational Health (NIOH) in Johannesburg, South Africa and was the Head of the Occupational Health and Safety (OHS) Training section since 2012. She retired in 2011 after serving as a Head of the Analytical Services at NIOH for 14 years.
She has a Masters degree in Physiology, Diploma in Occupational Health and Diplomas in Medical Technology in Chemical Pathology, Microbiology and Haematology. She also received training at CDC, Atlanta, USA; OSHA, Salt Lake City, USA; NIOSH, Washington USA; and in Erlangen Germany and have published in many peer reviewed journals research related to chemical exposures in occupational and environmental health and has presented at the national and international conferences.
Ms. Naik has 25 years occupational health experience particularly in the chemical exposures, their measurement and effects on worker's health. She has provided consultancy service to the private and public sectors in this field.
As the head of the OHS Training Department she was involved in developing capacity in occupational health through training to the under and post graduate occupational health professionals within the private and public sectors in South Africa.
Since her retirement she develops training materials and conducts courses, workshops and seminars in Occupational health and hygiene and provides voluntary service to to develop training capacity in OHS.
Contact Us
For any information / question, kindly contact :
Dept. of Community Medicine, Lady Harding Medical College, New Delhi - 110 001, India.
+91-97188 72900, +91-93130 54881, +91-95827 92331
View previous conferences.