ICOEH 2019 : 4th International Conference on Occupational and Environmental Health
15-17 February 2019,
Pre-conference workshops : 15-17 January 2019 & 13-14 February 2019, New Delhi

Organized by : Association of Occupational & Environmental Health, Dept. of Community Medicine - Lady Harding Medical College &
Vardhman Mahavir Medical College, New Delhi.
INVITED SPEAKER for ICOEH 2019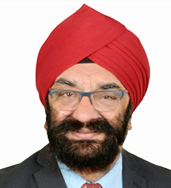 HPS Ahuja, CEO & MD of ISPRL is a seasoned engineer, having over three decades of experience in the Oil sector out of which over a decade has been in this niche field of underground storages of the Oil Industry. He started his career with ONGC in 1983 and has extensive expertise in well testing, stimulation and well completion of deep offshore exploratory wells drilled in the Bombay High oil and gas fields. While at ONGC he also steered the implementation of ERP project of SAP across the entire organization.
Shri Ahuja was involved in implementation of the Phase I strategic storage program of Govt. of India at three locations namely Vishakhapatnam, Mangalore and Padur entailing storage of crude oil in underground unlined rock caverns.
He has also been involved in preparation of the DFR for Phase II storage program which will entail two new underground storage technologies viz. solution mined salt cavern and in ground concrete tanks. He was instrumental in signing two key deals with UAE government for storage of crude in the storages. A Mechanical Engineer by academics from Bombay University, he also holds a Diploma in Management studies from Bombay University, as well.
Contact Us
For any information / question, kindly contact :
Dept. of Community Medicine, Lady Harding Medical College, New Delhi - 110 001, India.
+91-97188 72900, +91-93130 54881, +91-95827 92331
View previous conferences.