ICOEH 2019 : 4th International Conference on Occupational and Environmental Health
15-17 February 2019,
Pre-conference workshops : 15-17 January 2019 & 13-14 February 2019, New Delhi

Organized by : Association of Occupational & Environmental Health, Dept. of Community Medicine - Lady Harding Medical College &
Vardhman Mahavir Medical College, New Delhi.
INVITED SPEAKER for ICOEH 2019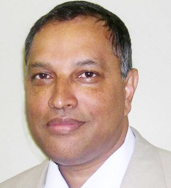 Barry Kistnasamy
is a medical doctor with additional training in public health, occupational and environmental health. He has 30 years' experience in health policy, health planning and management in the public, non-governmental and private health sectors as well as the provision of occupational health, HIV/AIDS and TB interventions in South Africa.
He has worked with the World Health Organisation, International Labour Organisation and World Bank, served on many national and international boards, committees and commissions.
He was the Deputy Director-General and Head of Health, Welfare and Environment in the Northern Cape province during the first term of the democratic government in South Africa, was the Dean of the Nelson Mandela School of Medicine in Durban and Executive Director of the National Institute for Occupational Health and the National Cancer Registry in Johannesburg. He currently heads Occupational Health in the Department of Health of South Africa and is Compensation Commissioner for occupational lung diseases in workers and ex-workers in the mines and works sector in South Africa.
He trained as a medical doctor and specialist in public health at the University of Natal and had additional education and training in Health Economics and Planning at the University of York in the United Kingdom, Occupational and Environmental Health at the University of Michigan in the USA, Advanced Epidemiology at the New England Epidemiology Institute in USA and Health Leadership at the University of Cambridge in the United Kingdom.
He is an Associate Fellow of the College of Public Health Medicine of South Africa and has specialist registration in Community Health with the Health Professions Council of South Africa.
Contact Us
For any information / question, kindly contact :
Dept. of Community Medicine, Lady Harding Medical College, New Delhi - 110 001, India.
+91-97188 72900, +91-93130 54881, +91-95827 92331
View previous conferences.